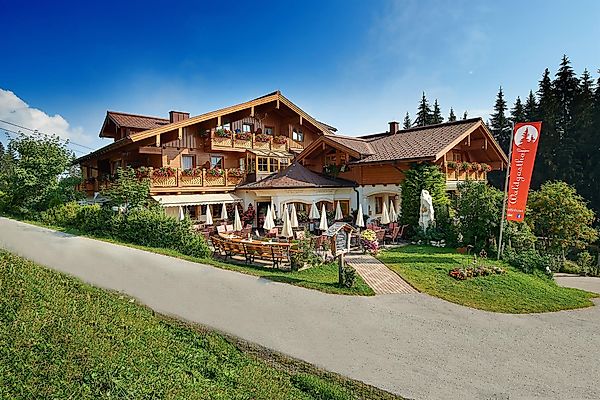 Hotel Waldgasthof
Der familienfreundliche Gasthof liegt an der Bergstation Star Jet I (im Sommer Liftbetrieb). Im Sommer liegt das Wander- und Ausflugsgebiet Grießenkar direkt vorm Haus und für Kinder gib's einen tollen Spielplatz. Der Waldgasthof verfügt über bestens ausgestattete Zimmer, seit 2021 auch Zirbenzimmer und bietet einen kleinen Wellnessbereich. Mit einem guten Frühstücksbuffet und regionalen Spezialitäten werden Sie bestens verpflegt.
Direkt beim Waldgasthof befindet sich der Start und das Ende des Floris Erlebnispfad. Der Floris Erlebnispfad ist ein Rundweg mit vielen Spiel- und Rätselstationen (Fabelwald, Vogelnest-Schaukel, Wasserspiel, Naturkino, Skywalk, Wackelbrett uvm.). Der Wanderweg ist so angelegt, dass er auch mit einem Kinderbuggy zu bewältigen ist.
Do you want to allow Integration of external maps material?